Mencap Spellathon
Mencap Spellathon is an online resources to improve literacy and help raise funds for your school and the charity. Spellathon provides a free resource for teachers and their students to practice English spelling in the classroom and at home in a fun and engaging way. Spellathon is presented by 'The Professor', an amazing 3D bee character voiced by Stephen Fry and is set in a futuristic digital universe where the Spelling Bees guide you through spelling games.
"This is just about the best integration of imagination, education, technology inclusiveness and fun that I've ever encountered. Very proud to have been involved in it, even in the smallest way." Stephen Fry
From the 21st May – 27th May 2012, the world will compete in the first ever digital Spellathon championships! With the world watching, amazing prizes and the chance to raise funds for your child's school and Mencap, this is a competition like no other!
Our opinion; A superbly built website with a genuinely useful and interesting resource which also helps to raise funds for a wonderful cause. Visit it today and tell your friends about it!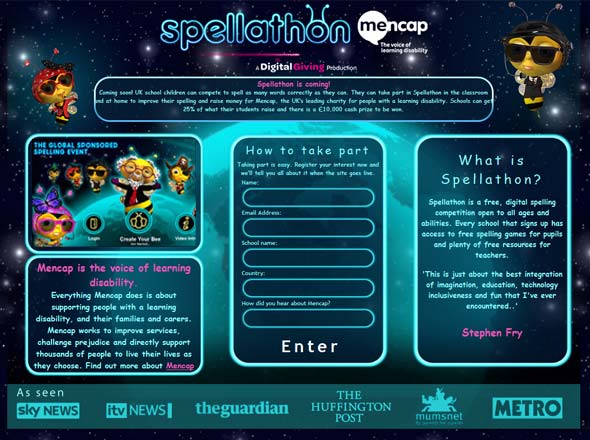 If you like us, Share us!