Exam English
examenglish.com is for people studying for an English ESL language exam. The site contains free online practice tests for the most important international ESL/EFL exams: IELTS, TOEFL, TOEIC, and the Cambridge ESOL exams such as CAE, FCE, and PET. All the practice test questions are written by experienced teachers and examiners.
There is a useful test comparison section to help you see the differences between the multitude of ESL exams available today, and also an online level test to provide an indication of your current level. Each exam section includes both written and listening exercises, a vocabulary section where visitors can do practice tests for all groups of the academic word list. There are also practice tests by vocabulary topic.
The CEFR Levels section explains the different levels, what areas of grammar you are expected to know at each level and also provides example tests for each level.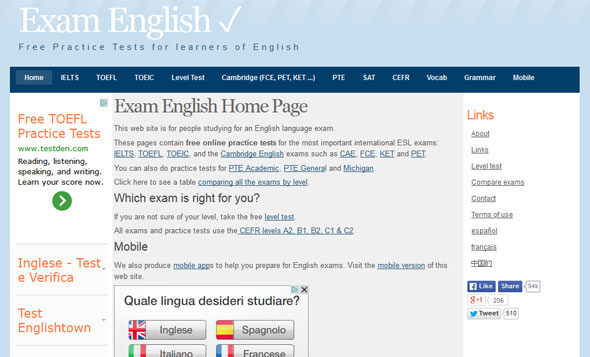 If you like us, Share us!