Knowble Articles
With Knowble Articles you can improve your English by reading interesting newspaper articles at your own pace, at your language level. Build your vocabulary for free for an unlimited period of time! Join Knowble today and learn why thousands of people choose Knowble to aid them with the reading material in learning a new language!
"Reading has and will probably always be one of the best ways to develop and broaden your vocabulary. By reading more you get more exposure to new words in context and develop the skill of learning what the words mean from their context. Knowble is a great way to support the development of your reading skills and vocabulary learning. If you use the site regularly your reading and vocabulary are sure to improve." – Nik Peachey, Freelance Learning Technology Consultant, Writer, Trainer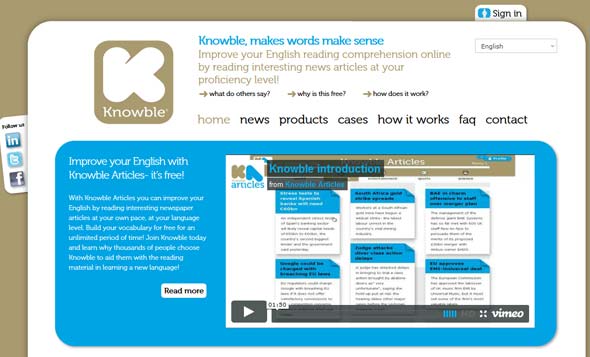 If you like this, Share it!