Storynory - free audio stories
Storynory is a great website for young learners and their parents, with hundreds of free audio stories for kids that you'll love! Storynory has published a new audio story every week since November 2005.
Aside from being entertaining, listening to audio books helps children to develop attention and imagination, stimulates a love of words and can be educational. Storynory offers a mixture of original stories, fairytales, and specially adapted myths and histories, mostly aimed at children aged around 8 to 11 years old. The stories are read by professional actors and the recordings are of the highest quality. Thank to MP3 and iTunes, there's nothing easier than copying a collection of audio books to play in the car when you're travelling with the kids.
The audio stories draw on things like fairy tales by the Brothers Grimm or Hans Christian Anderson and other unusual stories from around the world. They also have the entire audio book of Alice in Wonderland by Lewis Carroll, plus original children's stories including Prince Bertie the Frog, The Ordinary Witch, and Theo the Monkey. A wonderful website for children of all ages and nationalities.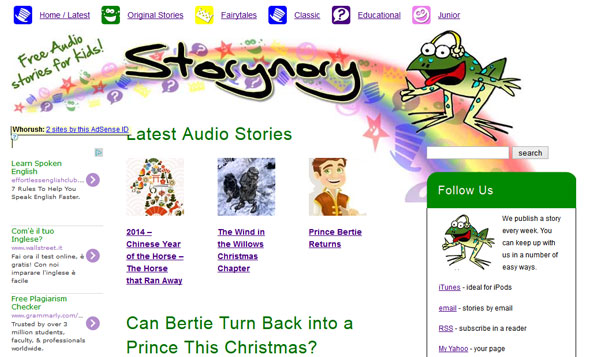 If you like us, Share us!