La Docente - Origgio
La Docente is the website of Nieves, a tri-lingual English teacher based in Origgio, near Lainate and Saronno in Northern Italy. The website is written only in Italian, being aimed at Italian clients. Nieves, specialises in teaching English to children, from nursery to university level, and also teaches Spanish to both youngsters and adults.
"Se stai cercando un corso di inglese a Saronno, sicuramente ti posso aiutare. Sia che tu inizi da zero, che al contrario tu sia già molto esperto e abbia bisogno soltanto di praticare per mantenere il tuo livello, che tu voglia prepararti per fare degli esami ufficiali oppure che il tuo interesse si centri nell'inglese commerciale. O supponiamo ancora, che tu sia uno studente delle superiori alle prese con Dickens e Wilde, in tutti i casi elencati la mia esperienza come insegnante di inglese può esserti utile." La Docente
Impartisco lezioni di inglese a Saronno e nei comuni limitrofi di Origgio, Uboldo, Caronno Pertusella e Lainate per studenti delle scuole medie e superiori e per bambini delle elementari e della scuola materna.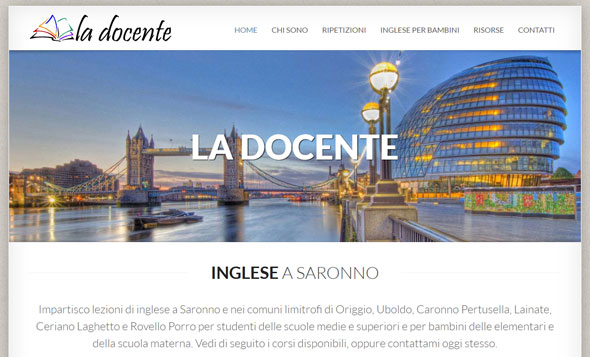 If you like us, Share us!