This warning is mostly aimed at unqualified or inexperienced teachers, but equally applies to those with more experience. You may have noticed that if you search for ESL jobs online, you'll come across lots of very promising adverts which say things like 'teachers wanted in xxxxxx, qualifications not required' or something along those lines. You'll often find that such 'recruiters' request registration fees in advance of any kind of work offer, or they'll request copies of certificates and passports.
Avoid them. Save yourself the trouble of finding out that there are no jobs available and that laws in many of the countries mentioned actually require qualifications in order to obtain a work permit, or that your certificates and passport have been cloned.
Many other websites you'll come across only have reams of links to other sites. These are often heavily advertised by means of spam posts in Linkedin and Facebook. The sites are usually fakes, with nothing except links to even more sites (often they are in a network) which you could follow for days on end without finding a real job advert. Usually, these sites are simply clones of other sites, created with the sole purpose of attracting visitors to generate advertising revenue and create traffic on the domain name, which is often also for sale at the same time. Thankfully, there are also some genuine sites out there. You just have to look a little harder for them.
Developing your teaching career
Once you have developed several years of experience, you might want to try something different. Within a language school you might focus on entering teaching management and becoming a DOS (Director of Studies). These ESL jobs will generally involve teaching, training teachers, day to day management, and maybe course and syllabus creation. If you are interested in this kind of job, focus on finding a teaching job in a large language school with several branches.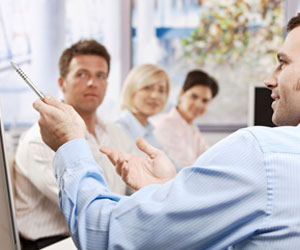 ESL Teacher Training
Another career option is teacher training, which gives you the chance to pass on your experience to new teachers. Fairly obviously, you cannot work in teacher training unless you have significant teaching experience, and you will also be expected to have TEFL certification. A TEFL diploma may be required in some countries, but in others you may find employers who rate experience and ability higher than qualifications.
To increase the value of your experience I would strongly recommend that you don't restrict yourself to teaching in just one country. Overcoming the challenges of teaching to different nationalities boosts your skills, and your value.
Writing ESL materials
Once you have experience and if you enjoy writing, you could also try creating educational materials for teachers or students. The easiest work to find in materials writing is for language schools and other educational institutions, preparing materials for teachers. You can also find work writing for some of the larger online schools.
Starting Your Own Language School
Most language schools started out because a teacher felt he could provide a better or different service. If you're an experienced teacher with an entrepreneurial mentality, this might be the way forward for you. Naturally, you'll find creating your own language school much asier if you start on a small scale. Some teachers begin by turning their home into a classroom and develop the business from there. If you are good at promoting yourself, you'll enjoy the challenge.
Becoming an ESL Teacher
Having a qualification to teach English as a foreign language can take you anywhere the world, and whilst the opportunity isn't a reason to become an ESL teacher, ESL Teaching offers you the chance to enjoy more than just an ordinary life...
Teaching English in...